Hello guys! It's time for another monthly wrap-up! There's a few days left of the month but I don't see myself finishing anything soon. I've also given myself a few days breather before I start the Magical Readathon! As you could check in the graph below, this month was not as packed as January and February were. I read fewer books, but still 10 books in a month is impressive in my eyes so I ain't complaining! It's been a busy month by trying to prepare to move house, but I had a more fulfilling month by having most scoring 4-5 stars! After the monthly break-down below, I have a mini review of the books I read.
---
the color purple – alice walker
format: paperback
length: 262 pages
This book was just lost on me. I couldn't get on with the writing if my life depended on it. And because of that I couldn't really connect with the characters, and when there's so many it's even harder! I liked the ending with the final letters but that was about it. I understand this is a staple for feminism and survival, and I understand the importance of this literary classic, but it didn't really stick well with me unfortunately!
2/5 stars
---
all the bright places – jennifer niven
format: paperback
length: 388 pages
I knew the controversy and subject matter with this book and I was able to take what I read with a pinch of salt, which made me enjoy it a lot more. I really grew to care about both the characters, and how they were able to find each other when they were both struggling with issues in their lives. The ending really hit me, even though I was expecting it. How Violet reacted to it really showed how far she came and how strong she had become, and I really liked that and take that as a positive message from the book. I wrote more in my Goodreads review here!
4/5 stars
---
in an absent dream – seanan mcguire
format: hardcover
length: 204 pages
This was very atmospheric and it was interesting to get Lundy's background, and I still adore Seanan McGuire's writing and storytelling. I would continue to obsess over this series. But I found that with this book, whenever there was a point of action, it was more or less skipped over and we go to after those events occur. I would've liked to get more detail on how some of those events unfold, especially when a character is killed off early on and the story of how they died and how they had to battle a creature of some sorts, it was never really developed and I would've loved to see more of that, even if it meant adding an extra 100 pages!
4/5 stars
---
i'll be gone in the dark – michelle mcnamara
format: paperback
length: 416 pages
I found this very interesting, and I love true crime. It was really terrifying at times, and other times I lost interest because I just wanted just the true crime aspect and wasn't that interested in the random biographical points of the author and it felt like it took away from the main point of the book. The topic was really interesting to me and the amount of research this woman did was incredible. It was bittersweet at the end when the author died before they found the Golden State Killer, but I feel a lot of what she did aided in the discovery of him which is a nice thought.
3/5 stars
---
what i lost – alexandra ballard
format: paperback
length: 400 pages
I have never read a story about eating disorders, and I can already say this one is a favourite. The author put in so much research and the story flowed really well. I can't say much on the accuracy on treatment centre's, but I felt the sensitive issue was dealt with so well. I understood Elizabeth's inner monologue and her relationship with food. Seeing her growth and recovery, and also her struggles were all really well done. Also, it was interesting to see her relationship with her parents and with the other patients. My only problem was the minor 'secret admirer' plot which I rolled my eyes at.
TW: Eating disorders, anxiety, self-harm
4.5/5 stars
---
i know why the caged bird sings – maya angelou
format: paperback
length: 320 pages
Well, this first autobiography was RAW. I couldn't comprehend the amount of terror and abuse Maya had to go through even in the early stages of her life, and she still managed to graduate two years early! The way she tells her story is so emotional and honest, but without any bitterness or resentment over what she went through. It's told very poetic and lyrical, and gave enough details without trying to rub it in your face, she brought light to the issues she faced and how she was able to rise above. That in itself shows an incredible and inspirational woman.
4/5 stars
---
how do you like me now? – holly bourne
format: kindle
length: 368 pages
This is my first try at Holly Bourne and I was pleasantly surprised. It was really easy to read and enjoyable. My main reason for enjoying this so much was that I found it incredibly relatable to something I went through regarding an old relationship, I swear Tom was based on my ex! That aside, this book offered so much honesty and rawness about the pressures of 'getting older' for women and the social pressure to settle down and have kids. This is definitely for the age range of mid-20's/30's to get something from, otherwise it may not be as relatable.
4.5/5 stars
---
neverwhere – neil gaiman
format: paperback/audible
length: 372 pages
Gaiman never fails to amaze me. His world-building and story-telling skills are some that there is no comparison. I loved how this was an ode to London, but also a grim realisation about the state of London, how homelessness is a major problem for the city. The magic system was so unique and entertaining, I loved the world of London Below and it's comparison to normal London. This book was also hilarious! I love Gaiman's satire and the British humour he included. I am now extremely excited for the sequel he might be releasing later this year, and another chance to dive further into this fantastic world!
5/5 stars!
---
daisy jones and the six – taylor jenkins reid
format: hardcover
length: 368 pages
I don't know if I have a new-found love for books about musicians or books set in the 70's, but I thoroughly enjoyed every second of this book. I devoured it within two sittings with no trouble at all. I could've easily read more revolving around these characters. It was told in interview format so that may not be favourable for everyone. I adored the characters, they were all so flawed and complex, I could swear I was reading about real people. Full of strong, independent women who don't follow the norms of society. Daisy and Billy were incredibly developed and fleshed out. Seeing the inside of a band recording, and the creative disputes that can arise. There was so much more than just a story about a band, it was their personal and family lives. The ending ripped my heart out. I am just in awe of what Taylor Jenkins Reid can do!
5/5 stars!!
---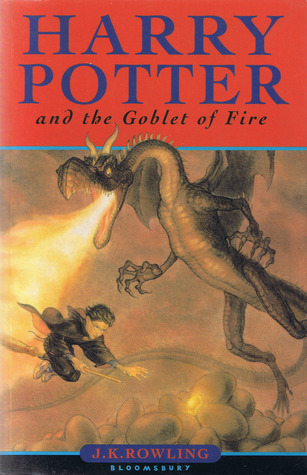 harry potter and the goblet of fire – j. k. rowling
format: paperback/audible
length: 636 pages
It was the first time re-reading the fourth book, I only ever re-read the first 3. I completely forgot most of the things that happened in this book and it has rapidly become one of my favourites of the series. There is a massive change in shift from the third to the fourth which I didn't truly appreciate first time reading, but now as an adult it feels perfect. I loved Goblet of Fire and the competition aspect! I can't wait to see what my opinions are of the final three books after re-reading them as an adult!
5/5 stars! *re-read*
---
So how many books did I read off my official TBR? Let's see!
TBR books:
The Winter of The Witch – Katherine Arden
The Priory of The Orange Tree – Samantha Shannon (128/848 pages)
In An Absent Dream – Seanan McGuire
All The Bright Places – Jennifer Niven
When The Moon Was Ours – Anna-Marie McLemore
How Do You Like Me Now? – Holly Bourne
Cress – Marissa Meyer
Persuasion – Jane Austen (43/284 pages)
Five Feet Apart – Rachael Lippincott
Kindle/Audible pick: Harry Potter and The Goblet of Fire – J. K. Rowling *re-read*
Classics pick: The Color Purple  – Alice Walker
Non-Fiction pick: I'll Be Gone in the Dark – Michelle McNamara
= 7/12 TBR books!
---
So what did you guys read and enjoy in March? Any new favourites to recommend? How has the first quarter of 2019 gone for you? I'd love to know!
THANKS FOR READING!!
Abbie xxxx