My first readathon of the year is completed! I had such an amazing reading week and things went a lot better than expected, especially as I set myself the difficult task of participating in two readathons AT THE SAME TIME (Buzzword Readathon wrap-up will be up tomorrow). I also was able to stick to my TBR and didn't substitute any different books in, although I did come very close to that! Overall, I'm happy with what I've done, and definitely started the year off with a bang. Hope you enjoy my wrap-up of the books I read for the Winter Biannual Bibliothon!
~~CHALLENGES~~
Read the group book
Read a host's 5 star book
A book with a cover you don't like
An adult book
Your favourite genre in your least favourite format (or vice versa)
Read a book that got you into reading
An author you've never read from
1/ Harry Potter and The Prisoner of Azkaban – J. K. Rowling
Format: Paperback
Pages: 317
Challenges: Read a book that got you into reading.
I remember reading this before the movie came out, and I loved knowing the twists and seeing them brought to life! We also get introduced to Lupin and Sirius which are my faves in the series. Save to say that I still absolutely loved this book, just as much as the first time! I don't think it would still be my favourite of the series, I need to re-read the rest to find that out. But I just love how things keep getting darker and darker!
5 stars!!
2/ Empress of All Seasons – Emiko Jean
Format: Kindle
Pages: 384
Challenges: Read the group book, read your favourite genre in your least favourite format.
I loved the idea of this book, and it is (currently) a standalone which you never see in fantasy YA! However, overall I thought the execution was quite flat. I didn't agree with the pacing, it started off okay but the last 100 pages or so were simply so fast that it just felt rushed. I did think the world-building was excellent and it felt very vivid! It also includes snippets of the Japanese gods of which the folklore was based on, and I thought that was a very nice thing to have in and it developed more of the atmosphere! The relationships were quite stereotypical and insta-lovey, and it felt like the author was trying to push the strong female 'feminist' lead but that made the decisions seem very bizarre. I did really love Akira and how he dealt with Mari, which I thought was a very clever thing to add which you don't really see in YA!
3 stars
3/ Fire and Heist – Sarah Beth Durst
Format: Hardcover
Pages: 290
Challenges: A book with a cover you don't like.
I was pleasantly surprised with this book! The plot was very interesting and unique and I enjoyed seeing the development of the plot. However I wanted more world-building, especially regarding one of the twists. The writing I thought was very simple, which meant I was able to breeze through but it is clear this book was targeted to the younger/pre-teen side of YA. The romance was extremely cliche and took us too far away from the plot – it wasn't a long book so I felt I would've enjoyed this a lot more if there were more dragons and less romance. Ending was underwhelming and not memorable, and the consequences didn't seem to be as 'high-stake' as I was expecting.
3.5 stars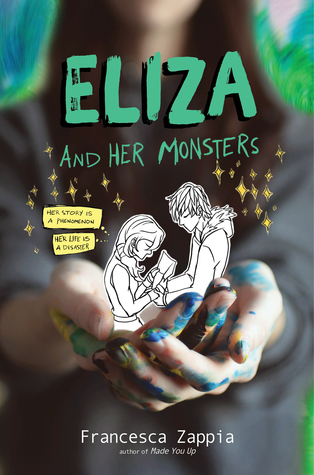 4/ Eliza and Her Monsters – Francesca Zappia
Format: Kindle
Pages: 405
Challenges: Read a host's 5 star pick, An author you've never read from.
Oh this was so good. I can't believe I waited this long to read this! I read it on my Kindle so I'm definitely gonna buy a physical copy as soon as possible. I loved the slow burn romance and I definitely got a Fangirl/Fault in Our Stars/Radio Silence vibe! The relationships felt genuine, not just romantic but also with family. There were definitely issues in communication from all areas which could've easily been avoided and saved a lot of stress and chaos for Eliza. But I found Eliza extremely relatable, especially in terms of her inner monologue on how to deal with the awkward social situations and it honestly seemed realistic. I found the writing really good and I was able to breeze through the story in no time, I was so immersed in Eliza's life. Also, I loved her brothers! They were so sweet in the end which was a shame because Eliza doesn't really talk to them for the majority of the book.
4.5 stars!
5/ The Alchemist – Paulo Coelho
Format: Paperback
Pages: 177
Challenges: An adult book.
I've had this on my TBR FOR SO LONG. Now I've finally read it and I'm very glad and proud of myself for doing so. The fact that I read it in a few hours makes me feel slightly bad though. I thought this was a very interesting and philosophical book. We follow a young shepherd who goes on a journey to find worldly treasure, and it is very much a story of destiny – finding your purpose in life and not letting anything stop you from pursuing it. It feels like how the universe itself wants you to follow your heart, and the only thing in the way of achieving your dreams is you yourself, which is quite comforting in a way especially when you don't know how to achieve your dreams/don't know what they are yet. I think this book should be taken with a pinch of salt, as it does read very sexist, bizarre and old-fashioned, and the writing is let down by the translation but that was expected.
4 stars!
---
.:SUMMARY:.
Books completed: 5
Challenges completed: 7
Total pages read: 1,573
---
So did you also participate in this readathon? If so, what did you reads? Have any of you read this books mentioned? What did you think of them? I'd love to know!
THANKS FOR READING!!
Abbie xxxx