Hey readers! Another readathon has come and gone, and I managed to complete all the challenges and therefore get 5 extra days for the OWL's exams next year! I did have a slight panic and thought we might have had to read one book for each prompt like in the Exams and not allowed to double-up, but I re-watched the announcement and couldn't find anything to say otherwise, so I'm counting it! So this was by far an outstanding success, I want to get going on the other extra credit readathons there are! Below are the challenges and the ones I completed, with the books I finished for each of the prompts!
~~CHALLENGES~~
Alohamora – 1st in a series
Incendio – 'fire' or 'flame' in the title/cover
Accio – a book that's top of your TBR
Rictusempra – abook that tickles/excites you
Lumos – a light cover
1/ A Promise of Fire – Amanda Bouchet
Format: Audiobook
Length: 13 hours (441 pages)
Challenges: Alohamora (1st in a series), Incendio ('fire' or 'flame' in title/cover)
I felt quite conflicted with this book, at many points I wanted to stop, but I also wanted to keep going. I didn't realise that it was more of a romance with fantastical elements rather than the other way round. So I felt quite bored for the majority of the time when it was focused on the romance. The main character got on my nerves quite a lot, she seemed to have the mentality of a teenager when trying to deny her feelings towards the love interest and saying things like 'I hate myself' or 'I want to die' because of the 'embarrassment' of those feelings. The story itself was entertaining enough and I could've loved it with it's mythological elements, if it weren't for the romance. However, I do think this was well-done for the genre and the writing was very, very good and extremely well edited. Hence me giving 3 stars mainly for that aspect as I couldn't deny that the author is a talented writer.
3 stars
She Must Be Mad – Charly Cox
Format: Kindle
Length: 200 pages
Challenge: Lumos (light cover), Rictusempra (book that tickles/excites you)
I was so excited when I heard the premise of this poetry collection, as it seemed like my perfect collection. The majority of the poems I thoroughly enjoyed and some of the things said will be cemented into my mind. I just didn't completely get on with the writing style of this collection; I didn't feel much of a rhythm and most of the time it didn't feel like poetry, just chopped up sentences. Despite this I was right in my feelings about the  overall messages being perfect for me. I was able to relate to a heck of a lot of stuff; mental health, relationships, heartbreak, anxiety, feminism, etc. So overall I did love the message and what this collection symbolises, but can't give 5 stars because of the writing and formatting.
4 stars
Hunting Prince Dracula – Kerri Maniscalco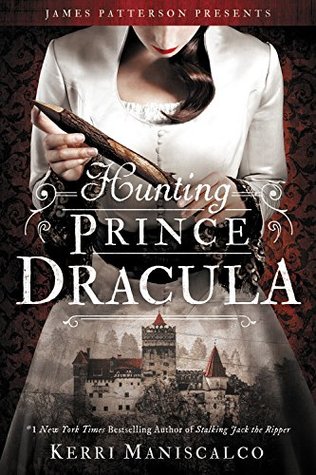 Format: Paperback
Length: 430 pages
Challenge: Accio (book that's top of TBR)
Oh my goodness. I loved loved LOVED this! I really enjoyed the first book, and after hearing the positive reviews of this, I was so eager to read it! The story had me captivated right from the beginning, jumping straight into the plot and the beginning of the mystery. Unlike the first book, I wasn't able to be certain on who the killer was. In this book, I had a few suspicions on a lot of the characters, and when it came to the reveal, I was taken by surprise! The characters, and their relationships, were so well developed. The Headmaster I literally wanted to punch several times! They all seemed very complex and I was engrossed all the way through. I can't wait for the third book to arrive as I want to dive straight into it, despite my current readathon plans!
5 stars!!
So did you guys participate in this readathon? How well did you do? What other reading plans have you got in store? Any thing you've been enjoying recently? I'd love to know!
THANKS FOR READING!!
Abbie xxxx