Hello readers! It's getting to the time of year where there are more and more readathons, with 3-4 that I'm interested in during July alone! READATHONS GALORE ❤
So I'm catching up with my posts before things get hectic. So I'm bringing my wrap up for the Cramathon which finished about a week ago (or maybe longer by the time I upload this). There were 7 challenges in total, and I managed to complete 5 of them, which is great going in my opinion! I also got part-way through the other challenges. See below for the books I read for the challenges and my views of them!
~~~CHALLENGES~~~
1. A predicted 5 star book
2. A book out of your comfort zone
3. A book that has been on your TBR for a long time
4. A  LGBTQ+ ownvoices book
5. something that is not a standard novel 
6. A book with your favourite colour on cover
7. Read 7 books

1/ The Seven Husbands of Evelyn Hugo – Taylor Jenkins Reid
Format: Paperback
Length: 400 pages
Challenges: 1. A predicted 5 star book
Not only was this truly a 5 star book as predicted, it's also easily one of my favourites of the year so far! I didn't want this book to end. I was so absorbed in the characters lives, felt for them, cried with them. It felt as if I was reading about a real-life Hollywood star, and wanted to further research the films and famous people mentioned. This book did such a great job of depicting the cost of fame, and how things are not always as they appear within headlines. The LGBT rep was so positive. The message being that you shouldn't be afraid of loving someone because of how you might be judged, and that life is too short. I could've read an extra 1000 pages of this and still find it just as enjoyable and gripping. It was so easy to read as well, which was great because I was recently struggling to keep interest in what I was reading. Everybody should read it, the hype is truly deserved.
5/5 stars!
2/ Deadpool Kills The Marvel Universe – Cullen Bunn & Dalibor Talajić
Format: Kindle
Length: 96 pages
Challenges: 2. A book out of your comfort zone, 5. Something that is not a standard novel (comic)
I found this fun and enjoyable to read. I was surprised with the amount of 1 star reviews, I mean, what were people really expecting with this? My first impression was a comic full of satire and a bit of fun, and that's what I got so wasn't disappointed. I won't continue the series though, I have no desire to see what's in the rest of the comics, mainly because I struggle to enjoy comics as it is and they're not something I would necessarily reach for in a hurry. There isn't really much more to say about this, the title gives away what it's about and that's genuinely what happens.
2.75/5 stars
3/ 12th of Never – James Patterson & Maxine Paetro
Format: Audio CD
Length: 7h 6m
Challenges: 5. Something that is not a standard novel (Audio CD)
This was quite disappointing. I've read the first few books of the series and really liked them, but this, 12th in the series, didn't feel on par. The first ones were written solely by James Patterson, and it's pretty obvious that he had little to no Input for this book. Maxine Paetro has taken a pretty good series and flushed away all that was good about it. Half was about the actual plot and the courts, and the other half was about her baby which was not relevant and nor did it follow the pattern of the other books. I'm glad I haven't read the books 4-11, because I feel like I would've wasted my time and seen the series fall slightly book by book. I think it's safe to say that this series has had its day.
2/5 stars
4/ Finding Audrey – Sophie Kinsella
Format: Paperback
Length: 280 pages
Challenges: 3. A book that has been on your TBR a long time, 6. Has favourite colour on cover
The book deals with an incredibly difficult topic but in a way that mixes humour into it to make it lighter and easier to read. I really liked how this wasn't a girl-has-mental-illness-then-meets-boy-and-is-magically-cured story. Audrey helps herself through her family and therapist and even though she isn't 100% in the end, she's still working on and coping with her illness. I had some issues with the book. One being that issue Audrey's recovery seemed a bit fast and unrealistic, and the romance seems very unrealistic as well. Another is that we never got told exactly what happened to Audrey to cause her mental breakdown. Also, Why was the mum so paranoid and obsessed with her son playing video games? It was just annoying.
3/5 stars
5/ Call Me By Your Name – André Aciman
Format: Audiobook
Length: 7h 43m
Challenges 7. Read 7 books (uncompleted)
This book was beautifully poetic. It's difficult to review, as it's not really plotted. Once I got passed the explicit/sexual nature, I started to really enjoy this. I found myself caring for the main characters and eagerly anticipating what was going to happen with their relationship. I felt quite emotional with the ending as well, but I understand why the author did things that way. This book is so character driven, and also focuses a lot on the writing. Both which was excellent.
4/5 stars
---
UNFINISHED::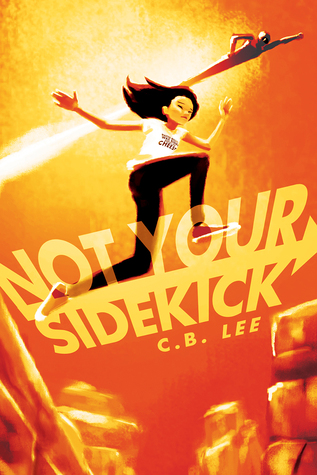 The Princess Diarist – Carrie Fisher (Read 7 books) 62%
Not Your Sidekick – C. B. Lee (A LGBTQ+ ownvoices) 37%
---
So that's all the books I read for Cramathon Summer 2018 and the challenges. I always enjoy a good readathon and anticipating the next bunch to start in July/August. Half the fun is the reading, but the other half is choosing the books for the challenges!
Have any of you participated in this readathon? And if so, how did you do? What books did you read for the challenges? I'd love to know!
THANKS FOR READING!!
Abbie xxxx