Somehow it's taken me weeks to write just one wrap-up or blog post, let alone read anything! A mix of work schedule and mini-reading slump. *hooray* better late than never, right??
April mainly consisted of reading for the OWL's readathon, which I absolutely loved to bits! I sincerely hope this readathon will come back, and along with the recent release of the mobile game A Hogwarts Mystery, I was full into the Harry Potter hype once again and had started re-reading the series.
The prompts for this readathon were fashioned into actual Hogwarts classes, and you had to complete as many as you could and would have a pass/fail grade at the end! I managed to get an 'Outstanding' grade for completing 5+ OWLS exams!
Below are the 6 classes I managed to complete, along with the books I read.
Astronomy: Read a Sci-Fi book
OBSIDIO by Amie Kaufman and Jay Kristoff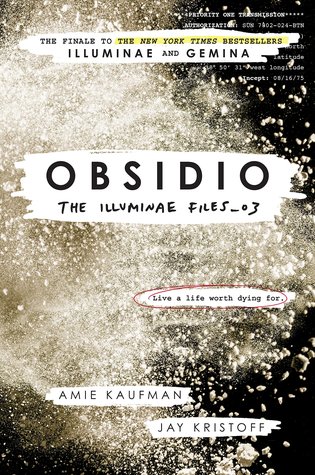 No of Pages: 615
Rating: 4.5/5
This is the highly-anticipated conclusion to the much-loved Illuminae Files trilogy, and it was amazing! We see all the characters from the previous two books meet and team up together to save Kerenza. So much was going on and I loved it! It was a little slow in the first 100 or so pages, and I did find the ending to be too 'convenient'. There were more 'transcripts' in this book than in the other books which did make it not as quick to get through compared to the previous books. But I still overall loved it and will definitely recommend this to all!
Charms: Read a fantasy book
Exit West by Mohsin Hamid
No of Pages: 229
Rating: 3.5/5
I fell in love with the concept of this book and thought it was such an important and relevant topic. We follow two characters in the Middle East and they find 'doorways' into Western civilisation. The contrast between these two worlds was so prevalent, and we follow how the characters cope with the changes of scenery. I did struggle with the writing style and I couldn't completely connect with them, but nonetheless I thoroughly enjoyed this and the last chapter was so bittersweet!
Defence Against the Dark Arts: Read a book with secret societies
The Mockingbirds by Daisy Whitney
No of Pages: 360
Rating: 2/5
I feel like I was too old for this kind of novel. If I read it back when I was obsessed with Gossip Girl, I definitely would've liked it more. But I found it very cliquey and full of 'high school drama' which I found tedious and frustrating. I did find that the subject matter was very important and would like to see date rape tackled more in YA novels, but because I couldn't empathise with the characters, I couldn't enjoy it.
Divination: Read a book featuring prophecies
The Wicked Deep by Shea Ernshaw
No of Pages: 320
Rating: 4.5/5
This was so enjoyable!I found it very eery, dark, and elusive which I was in the mood for. We follow a little town which is cursed by three sisters who were killed for witchcraft. I got massive Nordic vibes from the setting of the little town and it was so intriguing and full of secrets. As we go through the story we learn so much about the town's history and figure out the mystery behind the three sisters. I want to read more books like this and also more from this author!
Herbology: Read a book with a nature word in the title
Harry Potter and the Philosopher's Stone by J.K. Rowling
No of Pages: 223
Rating: 5/5
A long overdue re-read of my favourite series! Everyone would know what this series is about in some way, and I haven't re-read it in years. I thought this readathon would be the perfect opportunity to do so. I have missed this series, going back to the very beginning feels very nostalgic. Despite the first one being one of my least favourites of the series, it's still a 5/5 stars! It is the perfect introduction to the series and the wizarding world. If you haven;t read this series yet, may I ask why?!?
Transfiguration: Read a book that involves shape-shifters/Has a cat on the cover
Old Possum's Book of Practical Cats by T.S. Elliot
No of Pages: 49
Rating: 5/5
Another favourite of mine! I loved this series of cat-related poems. They are not spectacular nor would they give you a deep philosophical journey, but they are so enjoyable and so creative, and lead the way to one of the most successful and my personal favourite musical. I also loved the little illustrations in this edition!
TOTAL PAGES: 2,168 (including 372 pages of unfinished books!)
I did start a History of Magic class (The Nightingale – Kristin Hannah) and Care of Magical Creatures class (Temeraire – Naomi Novik) but sadly wasn't able to pass them in the end!
As I said earlier, Ilove this readathon and it was so much fun! Here's to another OWL's readathon in the future!
I know this wrap-up is a little bit late, reading has been on a bit of a back-burner/reading slump approaching so I simply lost track of wrap-ups etc.
THANKS FOR READING!!
Abbie xxxx