Autumn was a really solid reading season for me! It feels like summer was so long ago in terms of reading progress. I have narrowed down the books to 10 because 5 was just not possible. Each of these books I thoroughly enjoyed and will recommend, and even some of these will feature on my best reads of the year, and most surprising read of the year! So yeah, this may be a long post, just to pre-warn you.
10/ A Quiet Kind of Thunder – Sara Barnard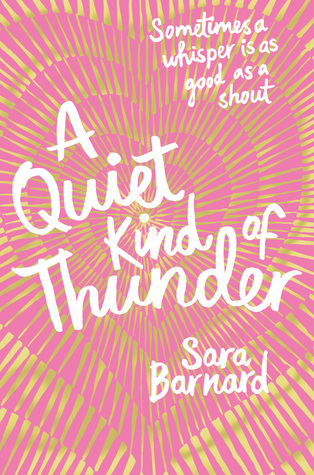 This was such a cute, quick read! It was great to read a book focused around deaf and mute characters, and found it fascinating how BSL was featured so often and it really made me look into BSL classes! The female character is mute and that is something that I dealt with in my early years in school and can still relate to a lot of the scenarios within the book. The romance was so real and relatable, and discusses issues with communication and expectations within a relationship which is something I can relate to in my own relationships and found it so accurate and relatable! I usually shy away from relationship-powered books, but this I really enjoyed!
9/ Spellbook of the Lost and Found – Moïra Fowley-Doyle
I was surprised by this book; I hadn't heard much about it so my expectations were not that high, I didn't even know what it was about. I mainly picked it up because the cover was so intriguing and beautiful. It was really atmospheric and perfect to read around Haloween/Autumnal times, it was a bit spooky in a few bits as well and I found the characters so real! They were in no way perfect, but they felt authentic and they had complex backgrounds as well which drew me into the characters. And I didn't pick up on the twist, but when it was mentioned, the penny dropped! So enjoyable!
8/ Under Rose-Tainted Skies – Louise Gornall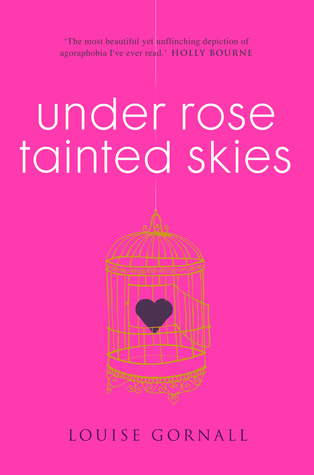 What an amazing mental health book! Again I was able to relate to the main character in terms of her anxiety disorder. The relationship Norah had with her mother was so precious, and you can see the strain the mother on how Norah's condition was affecting things. She really wanted her to get better but felt helpless, which is so relatable for those with anxiety! Because part of it is the guilt one feels on how their mental health affects those loved ones who want to help, but can't! Also, I really loved how the relationship in the book did not 'fix' her mental health, and she found the drive to get better by herself which was very inspirational and even lead me to take up therapy which turned my life around. So this was very impactful.
7/ Every Heart a Doorway – Seanan McGuire
A book that has been bouncing around for a long time! With its rave-reviews, I was hesitant to read the book. I enjoyed this very much! The story was very unique and clever, and the characters were really loveable. It even had a little mystery and it managed to grip me in so few pages. The next book focuses on Jack and Jill, and I was very interested in the world they went to so I'm very excited to pick it up! I want back stories of all of the kids, as a matter of fact! The story flowed nicely and the writing was so beautiful and magical, I will definitely be picking up more books from the author.
6/ Stalking Jack the Ripper – Kerri Maniscalco
I heard mixed reviews on this, so I didn't know what I would make of it. Turns out, I really liked it! I loved Audrey Rose and her thirst for knowledge and strive to break the 'female' mould that had been set during those times. I did get feminist vibes which was refreshing, and it didn't feel forced either. Audrey just didn't want to give up on her dream career and wouldn't let anyone get in the way or tell her otherwise, and this was done in a way which didn't make her annoying. The romance I actually enjoyed as well which is a rarity, and I can't wait to see how their future goes! I had an inkling on who 'Jack the Ripper' was, but I was still satisfied when it was revealed.
5/ A Gathering of Shadows – V. E. Schwab
Schwab strikes again! I just love her writing, her world, her characters, her plots! I took such a long time reading this because I didn't want it to end and wanted to enjoy the world and characters for as long as possible. It was fascinating diving further into the world and learning more about the magic and how different kingdoms in the same world treats magic differently. The tournament was such a great idea and I loved it so much. The books developed at a good slow-burn and the end result has me itching to read the next one.
4/ The Hate U Give – Angie Thomas
There's not much I could really say here. Everyone has either read this or knows what it is about. But it was done so brilliantly and effortlessly. It did not feel forced in any way, and Angie Thomas really dived into the family dynamic within the black community and how they come together in the face of adversity. There are just no words to describe how impactful this books is. I said it once, and I'll say it again, if a book ends up being banned in an American state, it usually means that book is very important and should be read by everyone, particularly in schools.
3/ The Wizard of Oz – L. Frank Baum
I was amazed at how this book was a lot more magical than the movie could ever be! It was one of the best children's classics that I've ever read and I loved how it wasn't similar to the movie, so it kept me interested. I see a bit that it is considered the 'American' version of Alice in Wonderland, which I kind of understand. I mean, both are my absolute favourite children's books now! There's no need explaining what it is about, because nearly everybody has seen the film or know the plot of it. And to those who have, I strongly recommend reading the book, because you will be surprised!
2/ The Remains of the Day – Kazuo Ishiguro
I was reading this around the time it was announced that Kazuo Ishiguro was named the Nobel Prize winner for Literature, which I can truly understand why! His other book, Never Let Me Go, is one of my all-time favourites, so I was apprehensive to read other books by him as I cannot imagine how they would measure up. This is definitely a character based book rather than plot based, so it can appear to be slow. However, I think the slow, gradual build up was done flawlessly. And the writing I literally cannot fault; as it was beautiful. Every line felt like a masterpiece. I may be slightly biased because a lot of what Ishiguro described was the region of the West Country where I grew up and am pleased to call my roots.
1/ Jane Eyre – Charlotte Brontë
Another classic which I cannot fault.  I read this a few years ago and liked it then, but as I grew older, I was able to identify with Jane more than I originally did. Jane is the best heroine out there in my opinion, she's very passionate and highly principled, and doesn't let her infatuation for Mr Rochester steer her away from her well-grounded beliefs. She knows what he did was wrong and left him until he 'learned his lesson'. We see how Jane's poor upbringing doesn't faze her passions and drive. The story is a slow burn, but such an incredible journey to go on. Charlotte Brontë did so well in creating a fantastic story, and also incorporates much of her own life into it.
So if you made it to the end, I congratulate and thank you! I hope you enjoyed what I thought were my top books in Autumn. What were your favourite reads of the Autumn/Fall season? Any here which you also enjoyed? Any which you would recommend? I'd love to know!
THANKS FOR READING!
Abbie xxxx